Basic Y-MAN MY-C type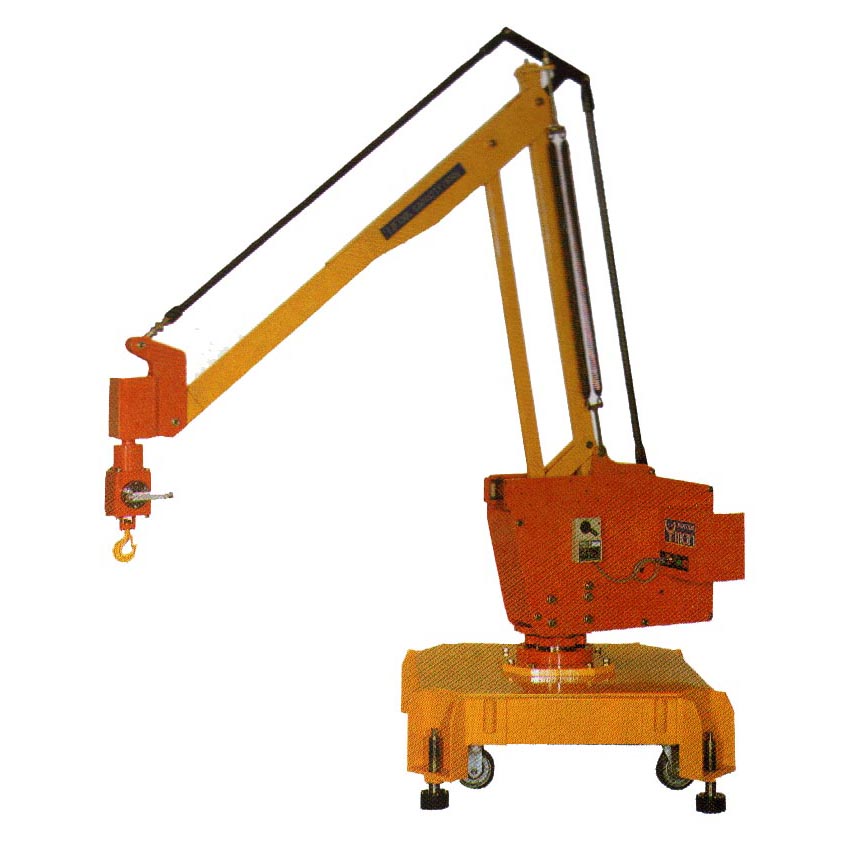 Type C is set up and used on the ground.
This makes it our most suitable type for use in workshops with low ceilings and similar environments. Because the machine's center of gravity is at a low position, it does not feel like there is any risk of the machine tipping over even if it is moved by using a dolly, or the like.
C-type models
Torque motor type
MY-CT
Servo motor type
MY-CS
High-speed type
MY-CSH
Features
Drive system
A rack and pinion system is used for most of the power transmission.
Arm system
A cylindrical-coordinate type system with a hanging arm that uses a pantograph system
Drive motor
All Y-MAN models use an electric motor for their lifting actuators.
MY-CT type drive motor: special torque motor
MY-CS type drive motor: AC servo motor



Specification
A
(mm)
B
(mm)
C
(mm)
D
(mm)
E
(mm)
F
(mm)
G
(mm)
H
(mm)
I
(mm)
J
(mm)
K
(mm)
N
(mm)
O
(mm)
P
(mm)
S
(mm)
W
(mm)
V
(mm)
X
(mm)
Y
(mm)
MY-C□-103
1300
380
300
1400
1982
2050
410
12
384
806
1020
972
3000
1165
–
680
100
4-M10
100
MY-C□-104
1600
500
300
1800
2315
2400
410
12
460
882
1396
1150
4200
1165
–
680
100
4-M10
100
MY-C□-105
1819
681
300
2300
2835
2900
410
12
520
942
1851
1389
5000
1165
–
680
100
4-M10
100
MY-C□-106
2496
824
300
2700
3202
3250
410
12
545
967
2080
1586
6640
1165
–
680
100
4-M10
100
MY-C□-183
1269
571
291
1461
2037
2100
555
102
0
657
1409
1187
3680
1382
90
734
100
4-M10
100
MY-C□-184
1619
731
300
1860
2412
2500
555
102
16
677
1774
1401
4700
1382
90
734
100
4-M10
100
MY-C□-185
1852
838
300
2120
2667
2750
555
102
21
678
2045
1544
5380
1382
90
734
100
4-M10
100
MY-C□-186
2085
945
300
2380
2922
3000
555
102
26
683
2278
1687
6060
1382
90
734
100
4-M10
100
MY-C□-253
1153
517
300
1340
2018
2100
600
102
181
883
1392
1187
3340
1490
55
769
125
4-M12
136
MY-C□-254
1619
731
300
1860
2349
2400
600
102
280
982
1779
1401
4700
1490
55
769
125
4-M12
136
MY-C□-255
1852
838
300
2120
2560
2650
600
102
329
1031
2025
1544
5380
1490
55
769
125
4-M12
136
MY-C□-256
2085
945
300
2380
2771
2850
600
102
378
1080
2275
1687
6060
1490
55
769
125
4-M12
136
MY-C□-504
1243
917
300
1800
2675
2750
780
260
67
1107
1895
1305
4320
1549
115
769
125
4-M12
136
MY-C□-505
1491
1109
300
2175
3035
3100
780
260
142
1182
2257
1478
5200
1549
115
769
125
4-M12
136
MY-C□-506
1749
1301
300
2550
3305
3400
780
260
217
1257
2742
1700
6100
1549
115
769
125
4-M12
136